A Culinary Coup
The other night I called my neighbor and when she answered I asked  … "Why do these things always happen to me?".  She immediately replied …. "You're cooking again?".
She's used to my frequent "crisis" calls.  It goes like this:  I try and cook. I call her with questions.
More times than not I do something wrong when I cook because cooking is hard. Don't try and tell me it's not.
I will admit I was a bit prideful that I had pinned a recipe, gone to two different stores to buy ingredients and was ready to assemble our dinner. It was then I realized the recipe called for "instant rice" and I bought regular rice.
So when I called my neighbor told me regular rice wasn't a problem and that I could just "parboil" the rice. I couldn't even bring myself to tell her I had no idea what "parboil" meant. I decided I'd just look up my rice problem on the internet and see what the internets said to do. The first link I clicked also mentioned "parboiling"  which proves the world is out to get me when it comes to cooking. I decided to just cook the rice "according to package directions" and it turned out just fine.
I was excited for my family to try this new dish.  We sat down and ate and everyone talked and laughed.  No one mentioned that we were having a new dish or that they liked it.  What was more significant was that they didn't say they didn't like it either.
I figured no news was good news.
The next morning I made a recipe for breakfast that Jacob had at a recent youth retreat with our church.  He had some breakfast sliders that Jacob loved. In fact, the only thing he really told me about the entire weekend was "Mrs. Smith is a WAY better cook than you".
It doesn't take much to fall into the category of "way better cook" than me but I still called and told her he had bestowed that distinction upon her.  She laughed and gave me the recipe.  I thought it sounded kind of different but Jacob assured me we would love them.
And we did.  They were delicious.  The recipe is below.
After school I asked Jacob if he wanted me to warm up some of the chicken and rice casserole that we had the night before.  He said "yes" and as I was warming it up Jacob said something that is not just worth mentioning but also worth celebrating.
He said "Mom, that casserole was actually really good.  In fact you've made two good meals in a row.  You're on a roll Mom".
And I'm telling you right now that while I tried to look all "No big deal, easy breezy" inside I was doing a fist pump, high kick and yelling "Whoo hoo!!!".
But on the outside I was cool as a cucumber.
I like to think of that moment as a real life cooking coup.
Below are the recipes:
Breakfast Sliders:
*Package of King's Hawaiian rolls (and can we all just agree that you can put pretty much anything on a King's Hawaiian roll and it will be delicious?!)
*Ham (I used ham I had leftover from Easter so it was thick cut)
*Scrambled eggs (this is the part I thought sounded "different" … but just trust me)
*Swiss cheese
Cut the rolls in half and lightly spread mayonnaise on them. (My kids won't touch mayo regularly … every sandwich is DRY, but they didn't balk at this).
Stack the ingredients on the rolls and place in a 9x13 pan.  Pour melted butter over the top (because YUM) and warm at 350 for two or three minutes or until cheese is melty.
Your family will love you.  Promise.  Culinary coup.
The other recipe I got from Pinterest.  It's an oldie but goodie.  And just a tip … buy minute rice. Then you don't have to call your neighbor or google "parboil".
http://www.plainchicken.com/2017/03/old-school-chicken-and-rice-casserole.html?m=1
https://www.pinterest.com/pin/22306960636697038/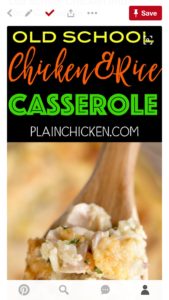 Last thing … sadly, Brittany recently asked me recently if I was ever going to make anything out of the cookbook she gave me for Christmas (Ayesha Curry's "The Seasoned Life").  Of course I meant to make something sooner than five months after Christmas … but life, so I quickly made a grocery list and made a pasta that Brittany deemed "SO good".  Just look at it … BAM. (The bobble head next to it is Steph Curry (Ayesha's husband and Golden State Warrior basketball player. I put it there as a trophy for my culinary efforts because the fact that I even placed the basil on top like the picture means I am deserving of an award!  Am I right?!?).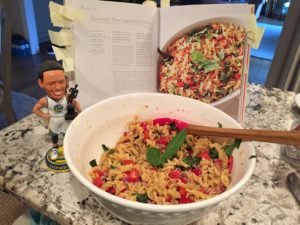 So clearly I am on a roll.  Which means I need to go figure out what we are having for dinner tonight! Have a great day!