Life on the Daily
---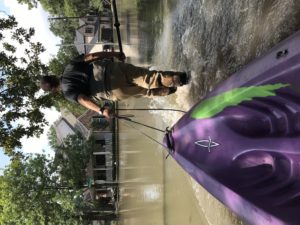 So often the days turn into weeks and the weeks into months so quickly that before we know it we look around and wonder how we got to our current place. That happened to me over the weekend when a friend posted that it had been fifty days since Hurricane Harvey came and wreaked havoc on Houston. I could barely believe that many days had passed. 50 days since over 53 inches of rain fell on our city. Fifty days since the reservoirs began to fill forcing an eventual release of water. The release flooded more homes, many of which had made it through the storm fine. Fifty days of "trying to figure out what to do".
Fifty days of a new normal for Houston.
In those fifty days individuals and families that were displaced found another place to live, got furniture, bought new mattresses and cars. They replaced clothing and necessities. Along with their friends, neighbors, family, churches, etc. they mucked out their homes, cut sheetrock and began the long drying out process that will be followed by rebuilding. People met with FEMA and called the Red Cross. Dishes and clothes tainted by the flood waters were washed and years of memories were sorted through. Many of those memories ended up piled up on the curbs in front of their homes.
It's all been so much.
Last week I read where someone asked what people should say and not say to storm survivors. Some people don't want to hear "I'm so sorry" and then some do. The most practical advice I saw was from a person who said … "Just ask me how I am today". She said don't ask "how are you doing?" because it's too broad. Because it depends on the day, even the hour or minute. I loved that idea of breaking it down to the day.
Truly this is a day by day process for so many.
I think the same holds true for all of us. Regardless of the present "storm" in our lives, taking life "daily" keeps it from being quite so overwhelming. Scripture is pretty clear about taking things one day at a time. Matthew 6:11 says "give us this day our daily bread" … because that is all we need. No more, no less. Just enough bread for today.
When we start worrying about tomorrow all kinds of thoughts, anxieties and worries can come up that just aren't meant for today. Matthew 6:34 says "Do not to worry about tomorrow; for tomorrow has enough trouble of its own'". That is so much easier said than done! Especially for the countless flood survivors making decision after decision, day after day. It's hard to not worry when bills are piling up and construction is looming.
I can't pretend to know what it is like to be dealing with all the storm "surge". I can offer a listening ear and a helping hand. I love the advice from Hebrews 3:13 … "But encourage one another day after day, as long as it is still called today".
Praying we can all live and encourage … on the daily.